Things to do in Nelson Bay – Introduction
Below you will find our ultimate guide to things to do in Nelson Bay. There are so many things to do in Nelson Bay, the main town in Port Stephens, a stunning natural harbour an hour north-east of Newcastle on the New South Wales coast. The area has some outstanding pristine coastline to explore, and a wealth of marine life to see year-round. Unsurprisingly the majority of things to do in Nelson Bay revolve around the water, with a Port Stephens dolphin cruise top of many visitors' wish lists. It's also worth travelling a few miles from Nelson Bay to explore some Port Stephens beaches, from the tiny coves near Tomaree Head to the vast sand dunes that stretch from Birubi Point to Stockton. Take a look below for more activities to do in Nelson Bay.
Tomaree Head Lookout Walk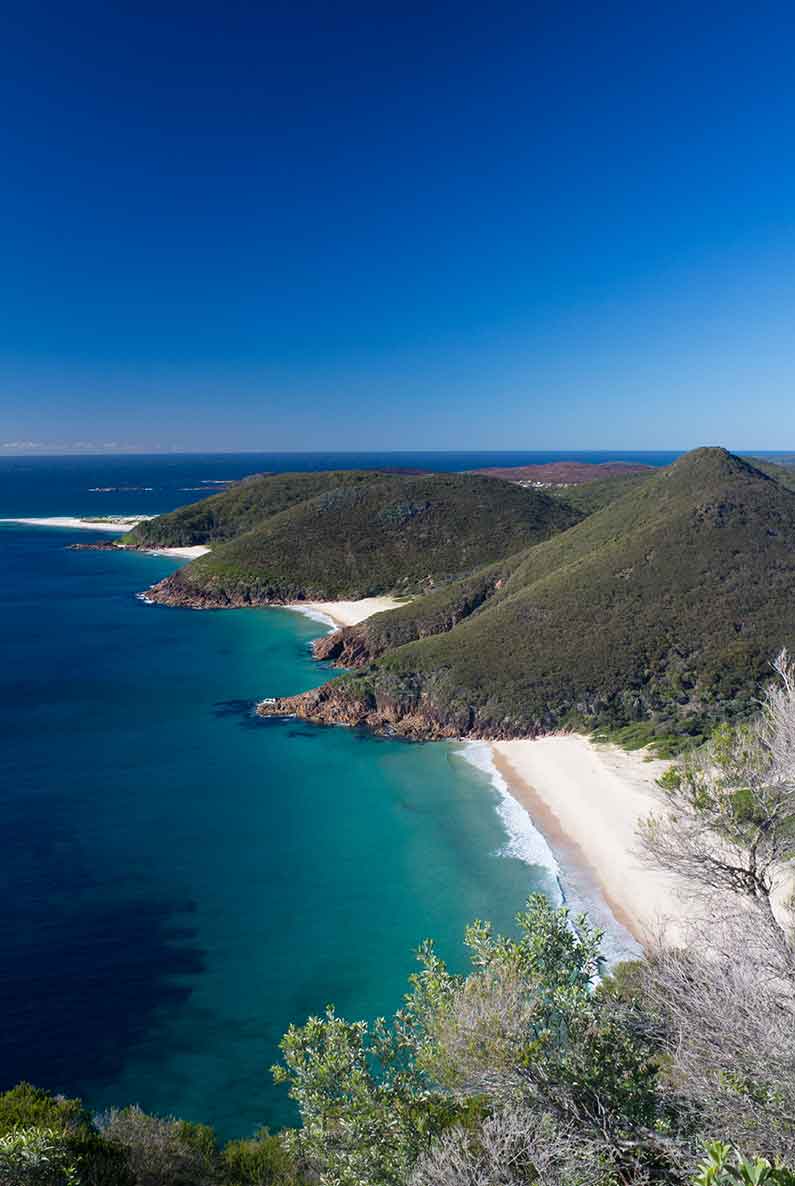 This twenty-minute climb from the car park in nearby Shoal Bay takes you to the summit of Tomaree Head, one of the two headlands guarding the entrance to Port Stephens harbour. The views down the coast, over three of the best beaches in Port Stephens – Zenith, Box and Wreck beaches – towards Fingal Island and sand spit are absolutely magical.
Whale watching trips Nelson Bay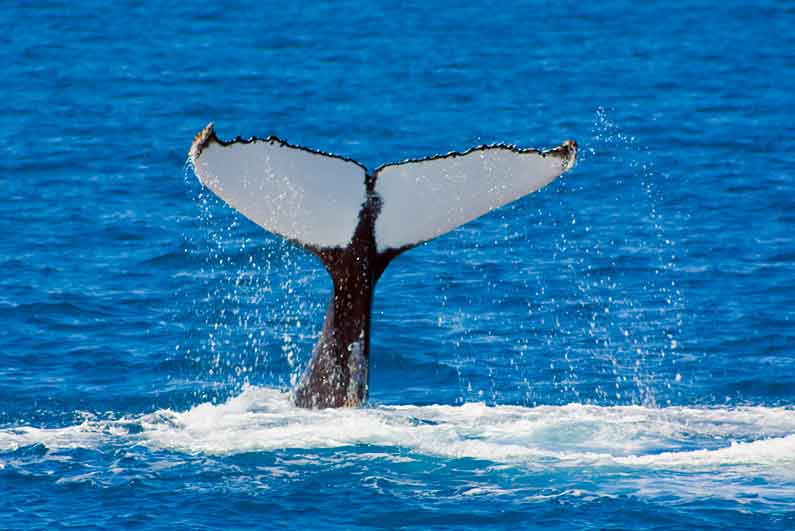 Humpback whales migrate northwards from the Antarctic up the east coast of Australia to the warmer waters of the Coral Sea in autumn, making the return journey in spring. It's possible to see them from the land, but getting out into the ocean gives you a much better view if you do catch sight of one. For whale watching Nelson Bay is a great Cruises last up to three hours, exploring the coast around Port Stephens. The season starts in May, ending in mid-November. https://www.moonshadow.com.au/cruises/WWPS/profile.htm
Dolphin Watching Trips Nelson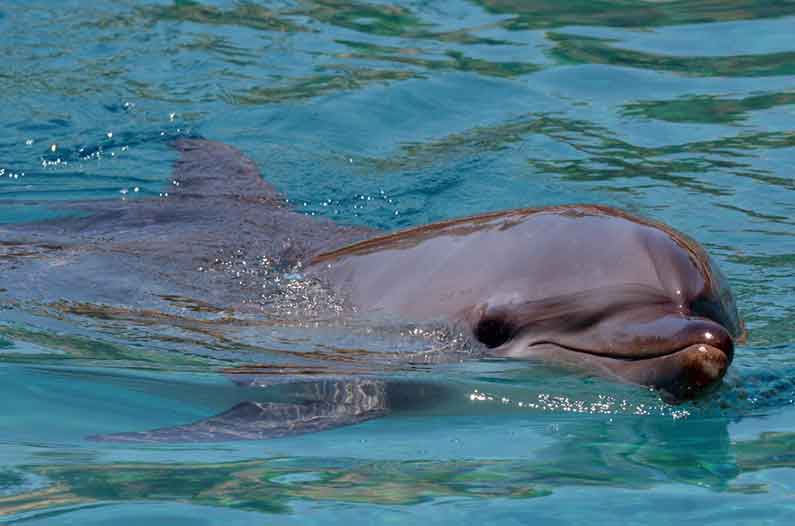 For dolphin watching Port Stephens is renowned as one of the best places in Australia, with over a hundred dolphins are resident in and around the harbour, they know the boats and sometimes swim alongside, so the chances of seeing them are very high – 99% according to the Moonshadow website. Cruises last one and a half to two hours. https://www.moonshadow.com.au/cruises/DW/profile.htm
Swim with Dolphins Nelson Bay
Swimming with dolphins is on many people's bucket lists, and Dolphin Swim Australia gives you the best chance of doing so, heading out at dawn, the calmest time of day and the most likely time of day to see dolphins. Everyone takes it in turns to sit in a boom net at the back of the boat. Most of the action is underwater, so some snorkelling ability is required. http://dolphinswimaustralia.com.au
Take a magical sunset dinner Cruise
A sunset dinner cruise is another great way to see and enjoy Port Stephens harbour. While dinner is prepared, you can relax with a drink on deck or swim in the boom net. Then, anchored in a nearby cove, you get to tuck in to a seafood barbecue, either al fresco or downstairs in the cabin. Dessert is served while you make the return journey to Nelson Bay. http://www.imaginecruises.com.au/cruises-tours/sundowner-sail-cruise/
Get up close to Kangaroos on a Kangaroo Encounter
You can also get up close to Port Stephens wildlife on dry land. Some wild Eastern Grey kangaroos frequent Nelson Bay Golf Club, and most evenings a guide takes groups out to see them up close. You either walk or ride in a golf cart. Evening is the best time of day to see them. http://www.nelsonbaygolf.com/data/uploads/kangaroos/kangaroo-encounters-2.jpg
Gan Gan Lookout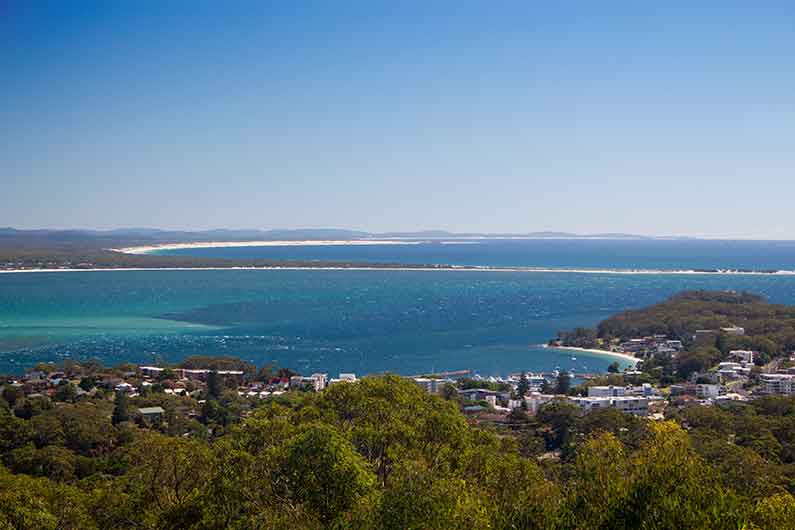 This is a great viewpoint with close to 360 degree views over the Port Stephens peninsula. It's the highest point in the area, directly below the TV and telecoms masts. From here you get great views, especially over Nelson Bay town down below, and towards Anna Bay sand dunes and beach, in the south of the peninsula.
Snorkelling and Diving Nelson Bay
The views above the water are breathtaking enough, and the same can also be said for underwater. The pristine aquatic environment and flourishing marine life in and around Port Stephens make it an ideal area to snorkel or dive. The difference between the two is that snorkeling is looking underwater from the surface, while diving means you go below the surface. Beginners can go on a snorkeling course and learn the basics, opening up a view to a whole new world. Lets Go Adventures also run scuba diving courses. Fly Point aquatic reserve, on Victoria Road, is a renowned site well worth exploring – in summer you get the added bonus of seeing juvenile tropical fish there. Otherwise you can go boat diving offshore.
Nelson Head Lighthouse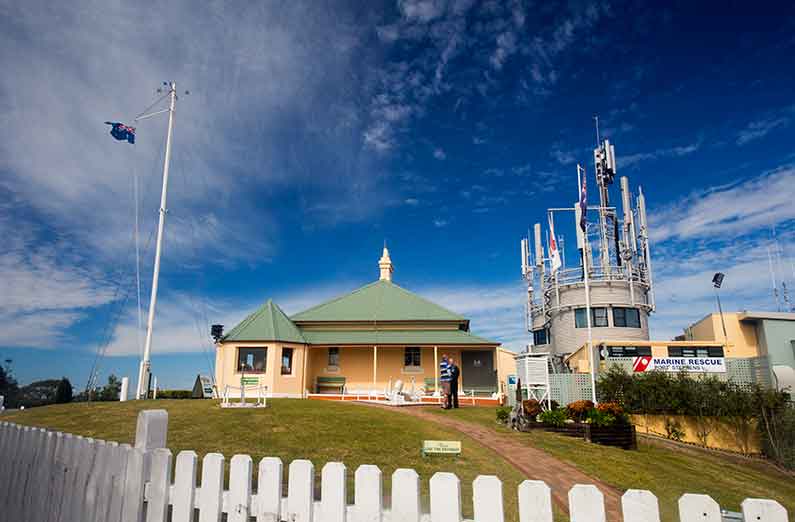 Nelson Head lighthouse overlooks Port Stephens Harbour from an elevated headland. The keeper's cottage houses a small maritime and local history museum, and next door, the Inner Light Tea Rooms serve food through until 4pm daily, with glorious views from the terrace. http://innerlighttearooms.com.au
Port Stephens Ferry
The north side of Port Stephens harbour tends to be much quieter than the south in terms of visitor numbers, but there's some wonderful pristine coastline to explore there from Hawks Nest up beautiful Bennetts Beach to the beginning of the Myall Lakes National Park. The ferry from Nelson Bay to Tea Gardens and Hawks Nest is a good way to introduce yourself to this. Otherwise they also run lunch specials in conjunction with the Tea Gardens Hotel. The ferry is expensive – a return trip costs more than a dolphin watching cruise with some operators. http://www.portstephensferryservice.com.au/web/
Broughton Island
Broughton Island is a remote spot off the Myall Lakes coast, and part of the National Park of the same name. It's a small pocket pf paradise with superb beaches, coast walks, fishing, scuba diving and snorkelling. It's possible to visit for a few hours on a day cruise trip or to camp there, which must be an amazing experience. Guided eco walks are also available.
Barramundi Farm
Cookabarra Restaurant serves up a good (mainly) seafood menu, with an emphasis on barramundi which is farmed on site. As well as eating, you can also tour the farm, seeing the barramundi at various stages from soon after birth to ready for the plate. Kids can feed or play with the fish, and meet the largest resident, 22 kilo Big Barry, who we assume isn't related to the boat-eating Big Bad Barry from Ben & Holly's Little Kingdom. https://www.cookabarra.com/tourist-centre.php
Little Beach Boat House
Tucked away at the end of lovely Little Beach, just around the headland from the centre of Nelson Bay, Little Beach Boat House is one of the best dining options in Port Stephens. The setting is gorgeous, with magnificent views out over the harbour, and the menu, which is mainly seafood-based, has some delicious Asian and Italian twists. http://littlebeachboathouse.com.au/
Point Stephens Lighthouse
The other Port Stephens lighthouse is out on Fingal Island (sometimes also called Shark Island), at the end of a sand spit that is in the process of rebuilding, and therefore currently impassable. Getting there by boat is the only option at time of writing, and the reward for the adventure is a fantastic vantage point with views in all directions. https://www.visitnsw.com/destinations/north-coast/port-stephens-area/attractions/point-stephens-lighthouse-and-fingal-islan
SaveSave
SaveSave
SaveSave
SaveSave
SaveSave